Pork Chop Express Charters - Testimonials
Here's what a few of our customers have had to say about us.
Have a testimonial of your own to share?
Send a Testimonial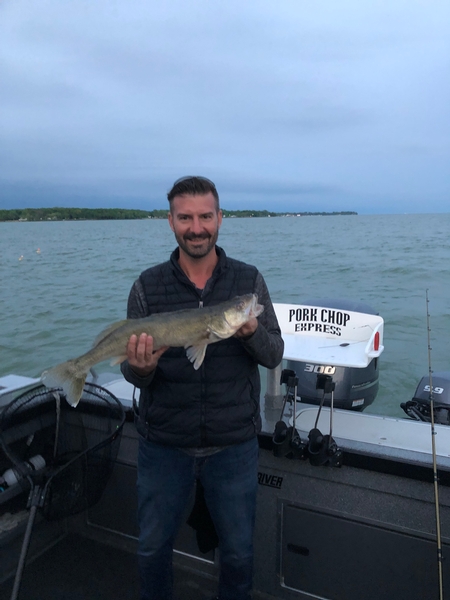 Chris S
Memorial weekend
Sam is an absolute awesome charter captain. He got us on fish right away and we quickly had our limits. Caught some nice lunkers! We had an amazing time and I can't wait to fish with Sam again. I would highly recommend booking this charter.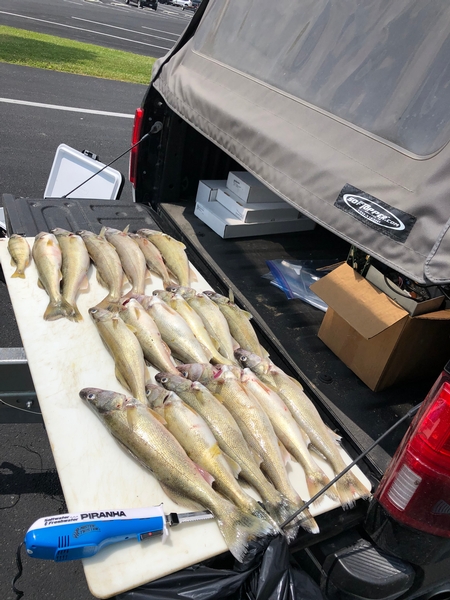 Ron S
4th of July Walleye
The Porkchop Man rocks this boat! Sam went out of his way to make sure we caught fish. A very tough day to fish on Lake Erie....almost glass and extremely hot. The May fly hatch was finishing and still in bloom. Sam found the fish suspended in 15 feet of water...and we filled the live well in less than three hours. It was a Great trip and making plans to go with this man again!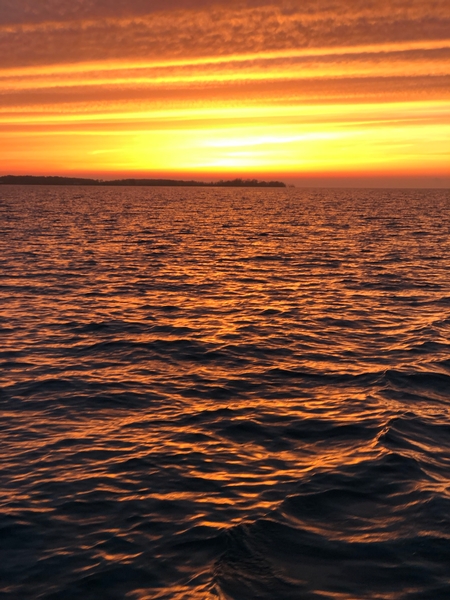 Jack O
Spring 2019 - Kalamazoo, MI
Very pleasant trip. Captain allowed us to get as involved with setting lines (and whatever else) as he was comfortable with. The fish were co-operative and the action was fast to steady. Whenever things did slow a bit Captain Sam would make an adjustment to speed, depth or whatever magic he worked and we we're back on them. Friendly and talked enough to be interesting, but not afraid to let it be quiet also. Would recommend to anyone who likes to spend time on the water. Beginners or old hands you are sure to be pleased.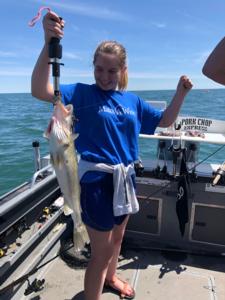 Jeff S.
Summer 2019 - Hilliard, OH
Fun and exciting day. Sam is a "reel" pro.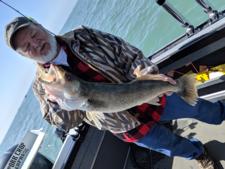 Jody Osborn
Spring 2019 - Plainwell MI
Sam is absolutely wonderful to work with. My husband and I chartered him for an anniversary fishing trip. Originally it was scheduled for the 26th, but bad weather forced us to reschedule for the 5th. The weather was beautiful, lake was pretty calm. We we're on the fish and had fish on before Sam could get all of the poles in the water. Every fish caught was beautiful. 17.5" was the smallest. 6.15 pounds the largest. GREAT trip, great fishing, GREAT captain, most of all one of the BEST anniversary memories ever!!!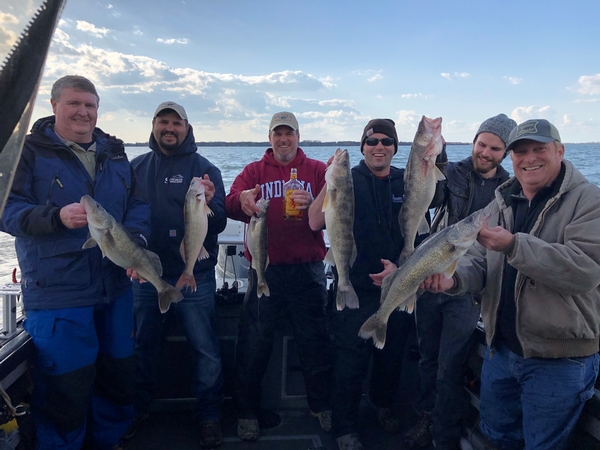 David
April 26,27 - Batesville Indiana
Fished with captain sam 2 days in windy conditions so we had to hide and fish and he put us on fish both days with limits !! Great job Cap't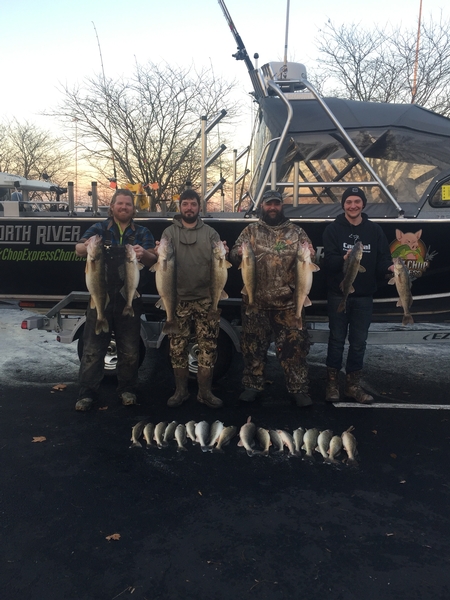 Cody
Myself and some friends booked a trip on Lake Erie with the Pork Chop Express. We met Captain Sam at the boat ramp, put the boat in the water and we where fishing in 15 minutes. We started catching fish right away and it was steady catching all day. We ended up catching 3 fish Ohio's and one of them is getting mounted. Captain Pork Chop knew exactly where the fish where at and had the poles rigged with the proper baits. His equipment is top notch and his boat is awesome, it is the nicest set up charter boat i have ever been on. He filleted all of the fish for us to take home which was great as there where 27 of them and he did it in about 30 minutes which is amazing. We all agreed this was the best walleye fishing trip we have ever had and we will definitely book again with Captain Pork Chop. If you want a productive trip on a great boat with a great captain then look no further call Captain Pork Chop and get booked up. Thanks for the great trip captain Sam.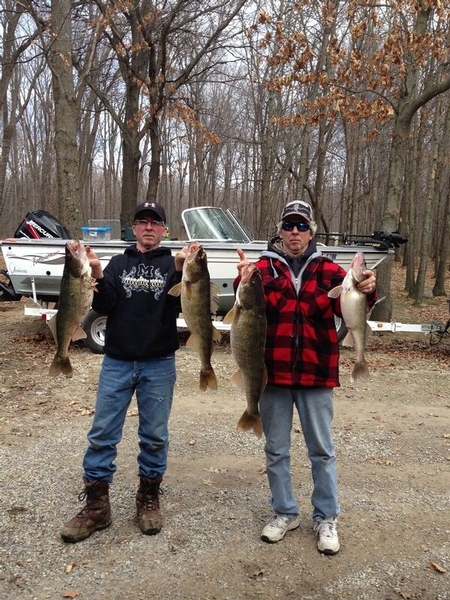 Steve
Pork Chop Express Charters gave my brother and I a great trip fishing for walleye this spring. We jigged up some really nice walleye. Captain Pork Chop kept us on the fish and handled his boat very well. He filleted all the fish for us to take home and we had a nice time with Captain Sam. We recommend Pork Chop Express Charters, you wont go wrong with Captain Sam.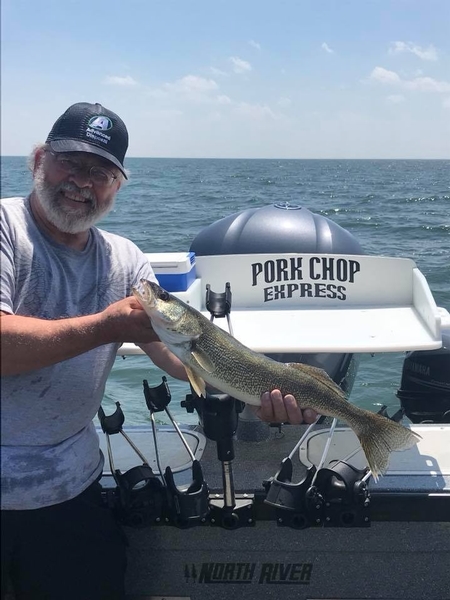 Larry
My Grandson and I had a great time fishing on the Pork Chop Express with Captain Pork Chop. We caught our limit of fish with no issues at all. Captain Sam knew where the biting school of good eater sized fish where at and he put us right on them. We never even got all the rods out once, we had fish biting before we could. It was a really fun time and Captain Pork Chop spent a lot of time helping my grandson learn and reel in the fish. He even taught him how to net the fish properly so we didn't lose them. He showed me how to fillet faster and keep more meat. He showed me what a walleye wing is and i will be keeping them from now on for game day snacks. He is a very helpful and patient Captain and has his boat set up well to be able to focus on his customers more than mess with navigating the boat. his boat has these really cool autopilots on his kicker motor that even controls the speed from anywhere on the boat. This boat is set up to fish and is very open and makes you feel safe. No nasty fumes from a V8 engine idling like i have found on other charters. Very quiet and comfortable boat. For a pampered day on the lake in a great fishing boat with a great captain, call Captain Pork Chop and book your charter with him. Thanks Captain, we will be booking again for next year.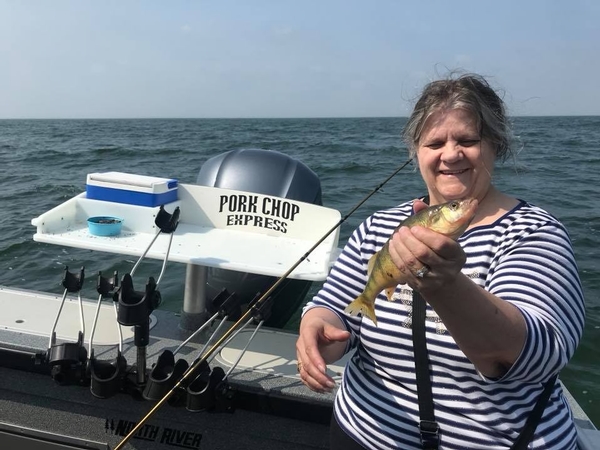 Linda
My husband and i went out with Captain Pork Chop over the 4th of July fishing for walleye for the first time. We caught a limit of fish with Captain Pork Chop. He did everything, he baited the lines, he put them out and he handed us the rod to reel them in and then he netted them. He even filleted all of them for us to take home. I wanted to catch a perch so after the walleye fishing was completed he found me some perch to catch and it made my day. Captain Sam was a pleasure to go out with and his boat is very clean and has a private porta potty i was able to use. We felt very safe on his boat it is very comfortable with high sides. I feel very safe in saying that if you want a nice day on the lake then call Captain Pork Chop and book your day on the Pork Chop Express.
Bill
My wife booked me a trip on the Pork Chop Express with captain pork chop for fathers day. I have never fished for walleye in my life prior to this trip. Captain pork chop spent a lot of time with me teaching me how to fish with all the interesting gear he had on his boat. His fishing techniques are quite ingenuitive and well thought out to not get lines tangled up. I picked it all up throughout the day and i enjoyed the trip more than i thought i would. I had a lot of fun with Sam and he made the trip a great one for me, he is a very personable and patient person and has the perfect temperament to be a charter captain. I wouldn't hesitate to recommend Captain pork chop to anyone wanting a very nice day on the water. Thanks Captain Sam i will come out with you again someday in the future. P.S. i have never seen anyone fillet a fish as fast as Captain Sam it was amazing to watch and he sent me home with completely cleaned ready to cook fish with no bones, my family loved it.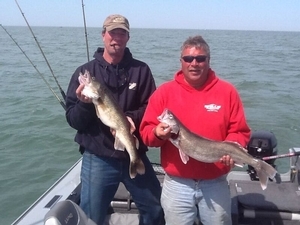 John
My brother and I booked a trip on the pork chop express with captain pork chop and we had a really great 2 days on the lake with Sam. He taught us how to use the planer boards and we trolled with husky jerks. I have fished in Canada and a few other places for walleye before but i have never caught as many big walleye as we did on this trip. Sam knew the travel corridor the spawning fish where using to head east after spawning and we caught fish all day both days. Captain Sam was very patient with us when teaching us how to troll. We have never used those kind of boards before they are really cool. I would recommend captain pork and the pork chop express to anyone wanting a great trip on Lake Erie, we had a blast and will be booking for next spring again.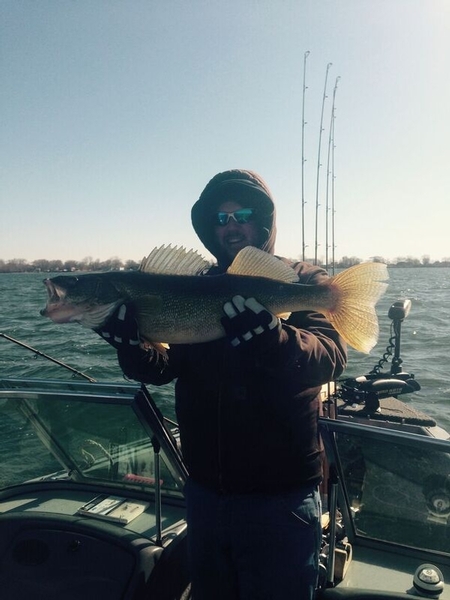 Joe
Sam took me fishing with a friend on breast bay on Lake Erie. We caught the biggest walleye I have ever caught just off of stony point. Every fish was 8 to 10 lbs. It was the best day fishing I have ever had. Sam knew exactly where we had to go to find the fish and had us catching fish right away. His equipment and boat are immaculate, a class act. I recommend anyone fish with Sam for a great day on the lake.